Project Management Lifecycle
Project Managers generally agree that Project Management is the application of knowledge, skills, tools and techniques to deliver projects, meeting quality, schedule, and budget goals. According to the PMI Project Management Principles document, project management processes fall into five groups: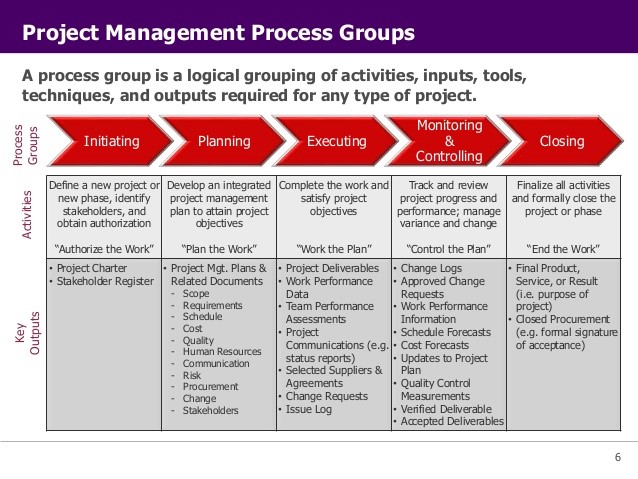 When executed successfully, these five process areas will produce a successful project.
Project Management with a Professional Services Automation (PSA) tool
We've written previously on this blog about PSA and the benefits it brings to coordinating complex professional services projects. A well-designed PSA will support each of the PMI Process Groups:
Initiating – As a professional services firm, it's important that your PSA provides a seamless transition from sales pipeline to project initiation. When prospecting projects, users should be able to set project probabilities and timelines, milestones and target dates, and attach and retain all notes and documentation. Once the project is ready to transition from pipeline to active, users should be able to easily change the project status and maintain all the sales artifacts utilized to initiate the project. Many of these artifacts are key in developing the PMI-recommended initiation documents, such as a Project Charter, as well as project budget and schedule commitments.


---

Planning – Your PSA should offer detailed planning tools to support the project planning phase. Users should be able to capture requirements, use cases, and both functional and technical specifications to support project task and milestone generation. Once tasks are generated, users should be able to take it a step further and break tasks down into smaller components - or work packets - establishing estimates and target dates. This supports development of a bottom-up schedule and budget, while ensuring that the work can be delivered within the project constraints.


---

Executing – Users should be able to easily update task and work packet statuses to keep Project Managers and their stakeholders informed of progress. Document management is an important feature in this area. Users should be able to collaborate seamlessly through the PSA by adding notes and attaching documents at the task level.


---

Monitoring and Controlling – Your PSA should have strong features for project monitoring and control. Project Managers should have real-time data available, so they understand project health at all times.  Your PSA's users should be able to easily verify the statuses of all tasks and milestones; they should be able to reference budget hours and actual hours at the task, work packet, and project phase levels; and should be able to generate reports to quickly and easily identify project issues and risks for immediate mitigation.


---

Closing – Once projects are completed, your PSA should support an orderly closeout process. Many professional services firms have standard transition protocols including debriefing clients, providing a summary of project value, confirming that all project documents are archived, and requesting client referrals. Your PSA should help you add these activities to your template project plans so they do not get overlooked. Additionally, Project Managers should be able to leverage all collected project data to support project closure reviews and "lessons learned" sessions with project staff.
Interested in seeing how a PSA can enhance your projects? BusinessTime is a full-featured PSA running on a secure and high-performing cloud infrastructure. Let us walk through a demo at your convenience.